Slow Roasted Cauliflower and Tuna Salad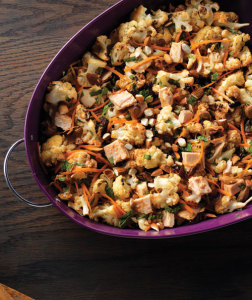 *This recipe is not suitable during FFDetox*
Ingredients
1 large head cauliflower, cut into small florets
¼ cup fresh lemon juice, divided
Sea salt and fresh ground black pepper, to taste
Olive oil cooking spray
1 tbsp olive oil
1 tbsp raw honey
1 tsp smoked sweet paprika
¼ tsp ground cayenne pepper, or to taste
3 to 4 carrots, peeled and grated
70g unsalted tuna
1⁄3 cup pitted Kalamata olives, coarsely chopped
3 tbsp sultana raisins
¼ cup coarsely chopped fresh basil leaves
¼ cup coarsely chopped fresh mint leaves
¼ cup toasted and coarsely chopped unsalted almonds
Method
Position oven racks in top and bottom thirds of oven and preheat to 220°C. Toss cauliflower with 2 tbsp lemon juice and season with salt and pepper. Arrange in a single layer on a parchment-lined baking sheet and mist with cooking spray. Roast for about 45 minutes, until lightly browned and fork-tender, tossing once and turning tray halfway through. Set aside to cool to room temperature.
Meanwhile, prepare vinaigrette: combine remaining 2 tbsp lemon juice, oil, honey, paprika and cayenne. Season with salt and pepper and set aside.
Transfer cauliflower to a large bowl and toss with carrots, tuna, olives, raisins, basil and mint. Add vinaigrette and toss to coat evenly. Arrange on a platter and top with almonds.
From Clean Eating Magazine @cleaneating