High Potency Fermented Super Food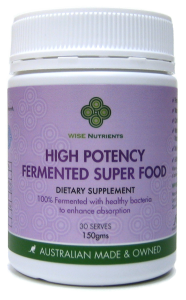 Sold within the FFDetox Complete Kit and Maintenance Kit
Wise Nutrients High Potency Fermented Super Food combines naturally fermented raw certified organic ingredients which provides highly absorbable nutrients commonly lacking from the western diet. Helping to create hormones, enzymes and support healthy growth and metabolism.
Add to fruit smoothies and recipes, sprinkle over cereal, mixed with water, or even eaten straight off the spoon!
All natural, organic raw ingredients
Probiotic food powder
Excellent source of amino acids and enzymes
Rich in friendly bacteria
Easily digested
Detoxifying protein source
Ingredients: Chick Peas, Spirulina, Sunflower Kernels, Linseed, Quinoa, Amaranth, Chia Seed, Dunaliella Salina and Molasses.